LightwaveRF is a brilliant system for getting into home automation. It enables you to install their wireless (RF) transmitting switches in place of your normal light switches and plug sockets and offer control from your phone/laptop etc. I much prefer these units over others on the market as they give a very nice premium look especially in their stainless steel finishes.
Lightwave RF light switches are always dimmers. Unfortunately (yet) they don't offer a straight "switch" and because of this it can cause some issues if you're planning to use them with LED bulbs. I've had the chance to test a few and would like to offer my conclusions along with some information.
There are 2 types of lighting dimmers. Trailing edge and leading edge.
This refers to the point on the currents "sine wave" at which they operate.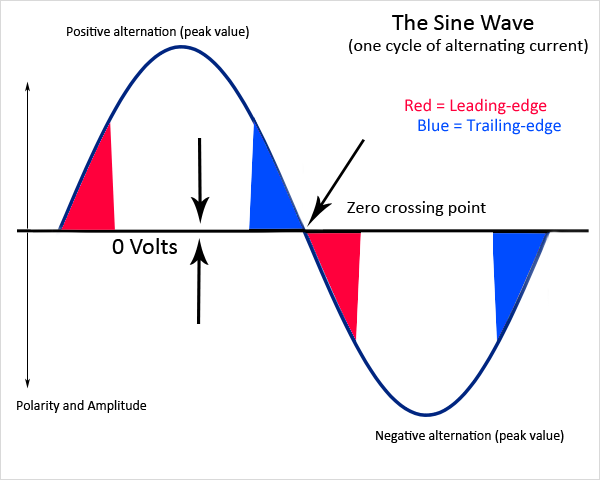 Lightwave in-wall switch dimmers are classed as Trailing edge dimmers and will require bulbs (LED) that are compatible with trailing edge dimmers.
Lightwave used to offer a selection of tested LEDS via their old reseller Megaman but more recently this information is harder to come by.
Thankfully Lightwave must have had some serious investment lately and their website/literature has had a bit of an upgrade.
They offer a compatibility chart here
Flickering And Buzzing
LEDS and dimmers are relatively new technologies and have only really been round for a couple of years. When using them with lightwaveRF you must take care to order ones which are compatible or you will get issues.
Cheaper bulbs may show that they support dimming however it will never tell you what kind of dimming. If you use bulbs with the wrong "edge" you will get buzzing noises from the LEDS which is highly annoying.
Another issue of using the wrong kind of bulbs is flickering or strobing. This occurs when the LED cannot control it's operation at lower currents (dimmed) at this point the LED will flash/strobe. In some cases when you turn the LED dimmer OFF it will still remain lit very dimly or flash.
Minimum Loads
Another "problem" with LEDS is that they draw much less power than halogen bulbs, although this is good for your wallet and the environment the dimmer requires a certain load before it will turn on.
A typical LED GU10 downlight will be around 4-5watts where as the lightwave dimmers require around 5-7 watts to be able to function correctly.
As the load is not high enough the LED may flicker, or not turn fully off, or work at all.
The solution is to add 2 bulbs, luckily downlights are usually installed with many lights on the same circuit so this is less of a problem.
It may however be a problem in smaller rooms, toilets for example where usually 1 light fixture is present. This will require a higher wattage bulb in order to meet the requirement.
If you still struggle you can always fit a halogen bulb, these will meet the minimum loads no problem.
Maximum Loads – Gen 1
When using Halogen bulbs the 1-2 gang dimmer can take a max of 250W which equals 4x 60W bulbs.
The 3-4 gang switches can handle 210W or 3 60W bulbs.
When using LEDS the maximum load is 60watts, LEDS use less wattage so this would be 12 5W LEDS however lightwave state that 10 should be the maximum.
Halogen Lamps
Halogen or filament bulbs can also work with LightwaveRF, the dimming of these is less picky and will work in all situations. Again there are maximum loads the dimmer can take.
Best LED Bulbs
I've installed quite a lot of lightwaveRF equipment in my home. Im totalling around 30 devices currently and these cover every room in my house including some outside lighting.
In all my LED compatible downlights i have Phillips Dimmable LEDs 2700k Warm white.
The dimming range is excellent, other people mention there is some slight buzzing from these LEDS but i've not had that experience. They are also well priced around £5-7 each.
From reading other articles it seems people also have good experiences with the Kosnic Halo LED 2700k S27 however they seem difficult to get hold of recently. I must test the S40 to see if it performance as well.